Continuing Education Update for 9/15/21: The Continuing Education Department at South Seattle College has temporarily paused offering classes until further notice while we hire a new director and refresh class offerings. We will keep you posted on our progress and look forward to many more years of community learning! If you have questions, please contact us at southced@seattlecolleges.edu
Maps, Directions and Parking
Class Locations & CE Office Location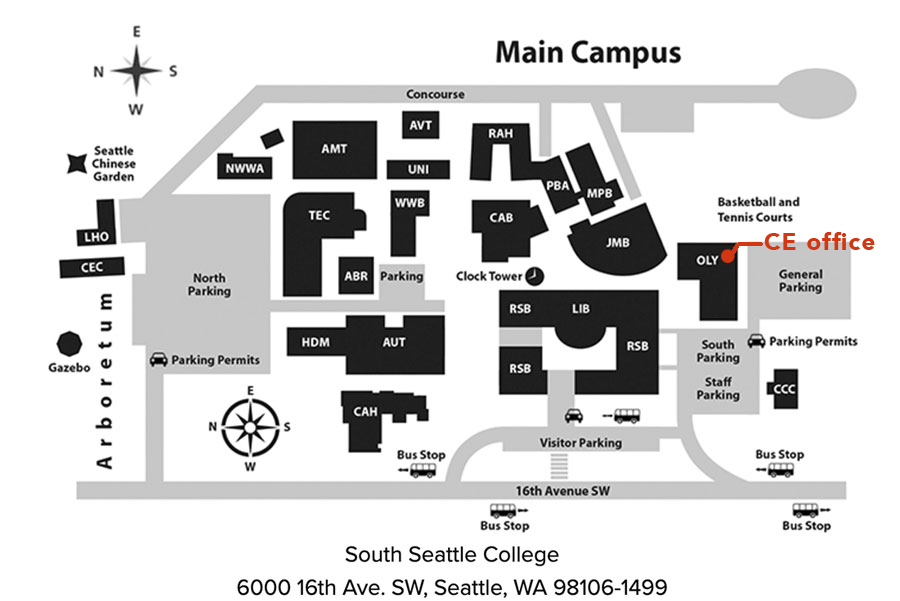 South Seattle College
6000 16th Ave SW
Seattle 98106 North Seattle College
9600 College Way N
Seattle 98103 Seattle Central College
1625 Broadway
Seattle 98122
Maps and Directions
Not sure how to find the building your class is located?
Here are  DIRECTIONS to CAMPUS and a  MAIN CAMPUS MAP
Parking On Campus
Parking Overview
Individuals who park at the main campus or the Georgetown Campus must purchase parking. For faculty and staff, please see the employee parking info below. For travel information, please visit our PARKING on CAMPUS page for more information.
How to Purchase a Parking Permit
South Seattle College students are able to purchase quarterly parking permits online. You will need to be a registered student at South with all of your outstanding fees from the prior quarter paid in full.
Purchase Parking Permit
Your quarterly parking permit will arrive in the mail within five-seven business days to the address you indicate in the online application. Watch for your permit as permits will not be replaced and fees are not refundable. HERE is where you can find more information.
If you buy the permit within seven days of the quarter start date, you can download a temporary permit to use on the first few days of the quarter.
Parking Regulations
Student and staff parking permits are required Monday through Saturday.
Parking at SSC is available on a limited basis. Priority is given to currently enrolled students.
Proof of paid registration for the appropriate quarter is required to obtain a permit. Students will receive parking refunds only upon complete withdrawal from classes or for classes which have been canceled by the college. Refunds will be processed according to the Withdrawal & Status Schedule and with return of the permit.
Lost or stolen permits will be replaced at the student's cost.
Students should not park in the two visitor parking lots.
Employee Parking Information
Current employees must park in designated employee lots only. Employee parking requires an annual permit, annual reserved, staff/faculty quarterly permit, or a carpool permit. Download and submit the Faculty/Staff Quarterly Transportation Application to South's Transportation Director (contact information is below).
Visitor Parking Information
A designated visitor parking lot is located just west of the Robert Smith Building (RSB) at the main campus entrance (campus map). Visitors may park for up to 45 minutes for $1, using the visitor spaces along the RSB driveway or general parking areas.
Contact Information
James Lewis, Transportation Director
Office location: Robert Smith (RSB) 062A
Phone: 206.934.5157
Email: James.Lewis@seattlecolleges.edu
Cashier's Office
Office location: Robert Smith (RSB) Lobby 
Phone: 206.934.5388